December 21, 2020
This is just a short post to let our community know the sad news that yesterday morning December 20, 2020, we lost Val Coleman, who died after several days at Fairview Hospital after a fall.
As most of you know, Val was involved with the Arts Center from its beginnings, volunteering in positions ranging from building maintenance (how many of us have called him to come and figure out the lockbox?) to member of the Program Committee and Board of Directors, as well as speaker in the Coleman/Bill Cohn series of talks on American life and culture, creator of the Burma Shave signs, and much more over many, many years.
It is hard to think of SArC at all without thinking of Val. He was an extraordinary poet, playwright, historian, and in his eighties became an actor with the Sandisfield Players, as well as author of 2017's "The Stamp Collection," which none of us will forget.
Val was a dear friend, a rare intellect, and as someone said, "A very unusual person."
Next month, the Sandisfield Times will have an obituary on Val and his remarkable life. The Arts Center will be planning a memorial / celebration of Val's life and writings in the Fall, when hopefully we can gather face to face.
Over time, we'll be adding more of Val's writings and talks to those already posted here:
From the series he and Bill Cohn have done on American culture and history:
"Abraham Lincoln: A Talk by Val Coleman"
And you can hear Val's voice in the post of his 2016 talk, "A Story of Poetry,"
From 2017, the picture below is of a round of applause for Val from the cast of his play, "The Stamp Collection". And from all of us, Bravo, Val!

Val with Steve Kopiec, the weekend of Val's Lincoln talk and Shakespeare Unchained.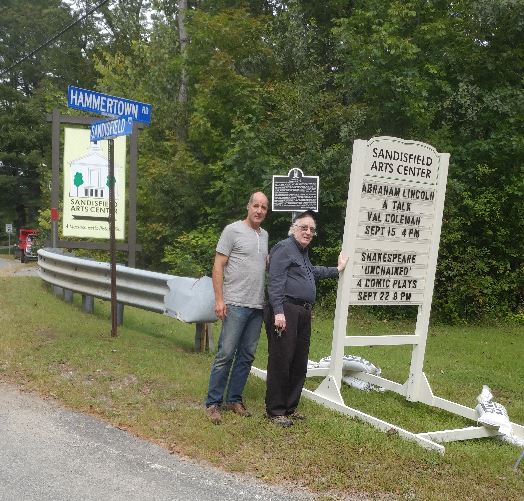 In the early days of the Arts Center, Val devised the idea for a sign that would list upcoming events. There were two — one at the bend of Route 57 coming from the west, and one at the Arts Center itself. Although the new more visible sign (shown behind the street sign) was needed to alert drivers to the Arts Center location (hidden up on Hammertown), the charming event sign with its sleigh runner stand lives on. (There are actually three signs in the picture, including the historical marker.)
Val also was the creator of the Burma Shave signs placed along Route 57/Main Street with humorous rhymes announcing an upcoming event. Lauren Paul has been his partner in actually placing the signs on the road.
Val was also a stalwart in the parking brigade, volunteers who would help direct arriving audience members to where they could park legally and safely, always a challenge, and a special physics-defying feat for packed events. Susie Crofut is the Prius driver in the picture here.