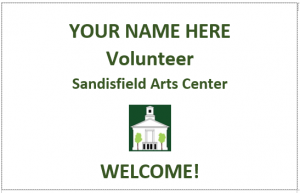 As a non-profit, community-based organization, the Sandisfield Arts Center depends on volunteers to plan and arrange our programs and participate in the committees that keep the organization alive and well.
Volunteers can serve in any of our standing committees, as well as in a variety of roles helping with our events.
If any of the following interest you — or you have an idea for something you don't see here — please contact our Volunteer Coordinator, Hilde Weisert at [email protected].
Our Committees
Where you can help plan and manage the successful operation of the Arts Center
Ever wonder how the 40-odd theater, music, lecture, and other events that comprise an Arts Center season get planned, and how the 7 gallery shows are selected and put together each year? Magic, plus the hard work of our Program, Gallery, and Ad Campaign Committees each year from September through the cold winter months.
Members of these committees participate in planning and executing each annual season — the fun part of having ideas and the hard work of turning them into reality, lining up perfomers, speakers, and artists, working out details that culminate in a signed agreement between the Arts Center and the performer or artist that provides the information for our program brochure, website, and publicity, and successful execution of the event.
Our other committees are also looking for new members:
Building and Grounds, if you're interested in historic preservation (our building is on the National Register), garden and site planning, and the nitty-gritty, literal foundation of everything we do
Marketing and PR, for writers of special-interest stories beyond our standard PR.
Rentals, to help with making our space available, appealing, and income-generating for weddings, celebrations, etc
Fundraising, if you have experience with grants and foundations, or want to learn.
Event Volunteers
We're always looking for hospitality volunteers and others to help at our events — ticket taker/greeters, parking lot guides, cleanup help. We also need a few people adept at or willing to learn the technical end of operating sound and lights. Let us help you add amazing skills to your resumé!
We hope you'll get involved and help us  strengthen the Sandisfield Arts Center through your participation.
Early volunteers did it all!