A highlight of our 25th anniversary 2020 season was to be the showing of "'Our Town' at the Minack" a film about the 2016 preparations and performance by the Sandisfield Players at the Minack Theatre in Cornwall. England,
The 90-minute film will be shown next season, but in the meantime, you can read about it and see this short preview that Jerry Herman, the filmmaker, put together for us about this magical experience.
Were you there? Feel free to post a comment!
About the film:
Our Town by Thornton Wilder was first performed by the Sandisfield Players at the Arts Center in 2013. On a trip to Cornwall in 2014, Ben Luxon, the producer and director of the show, mentioned to his friend, Phil Jackson, the manager of the Minack Theatre, that he was directing the show in the States, and Phil asked him if he wanted to perform it there. Ben agreed, and the performance was scheduled for the summer of 2016. Inasmuch as the Minack is an outdoor venue, and its stage is twice the size of the stage at the Arts Center, arrangements were made to rehearse at the Sandisfield firehouse.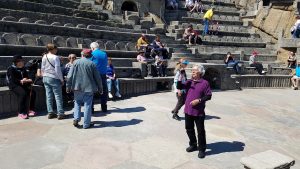 This film, produced by Jerry Herman, chronicles the play's development from our local indoor theater to a much larger, world-famous outdoor theatre in England, and the historic trip made by the Sandisfield Players to perform it there. Running time is 90 minutes.