In July, the world lost a creative, original spirit, Daniel Jacob Manacher.
Daniel and the Manacher-Birnbaum family are longtime and beloved members of the Sandisfield and Sandisfield Arts Center community. The text below is adapted from the August 2020 Sandisfield Times. With this online format, we can also include at the end of this post a wonderful short film of Daniel describing his artistic invention, Shwoopy Loops, as it progresses from paper to phone screen to shoes to the car, "just a bigger canvas." The video lets you get a sense of Daniel and see the spirit behind this mesmerizing art form which, as he explains, is about "How we all come together in our creativity as a community."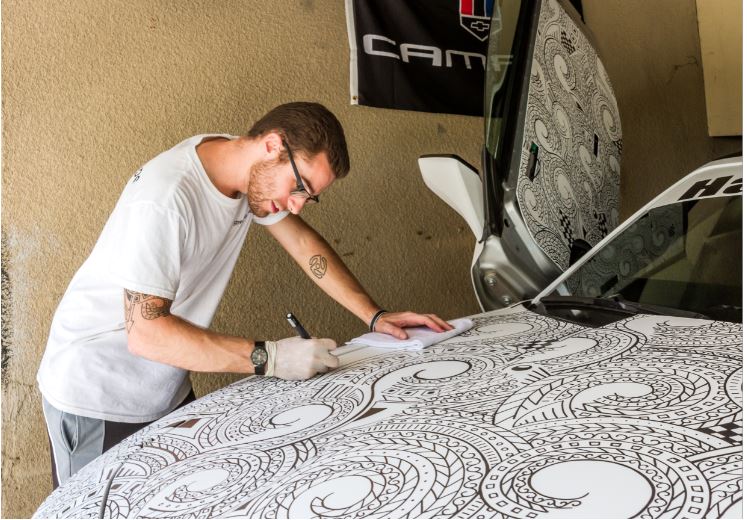 Daniel Jacob Manacher, 25, of Cambridge and Sandisfield, MA, and Pasadena, CA, died July 4, 2020. Born on September 24, 1994, Daniel was the beloved son of Dr. Carol Birnbaum and Mr. Adam Manacher, brother of Jonathan Manacher, grandson, nephew, cousin and friend. He graduated from Cambridge Rindge and Latin School in 2013, and attended Massachusetts College of Art and Design, Boston and Art Center College of Design, Pasadena, CA. As a child and teen, Daniel spent countless weekends, summers and holidays at his family's second home in Sandisfield. Sunrise was his most cherished time of day in the Berkshires, and he relished the warm light, colorful skies and quiet. He loved running in the fields, swimming in the local lakes and ponds, and chasing fireflies. He would regularly drop in on neighbors and their animals, and spent a summer working at Pig's Fly Farm. Daniel also enjoyed visiting and occasionally volunteering at the Sandisfield Arts Center.
An artist and designer with a passion for American muscle cars, Daniel spread his signature designs onto every surface he could, including his treasured 2015 Chevy Camaro. Through his business project, Shwoopy Loops, he moved from personal design projects to larger scale events that invited participation of his community. He had warm brown eyes, a winning smile and a tender way of relating to people of all ages. Daniel made his own path. He followed his passions from Cambridge and the Berkshires to Pasadena and Los Angeles, always staying true to his own way of doing things. The family will be holding a private memorial for him at their home. His parents ask that any gifts in Daniel's memory be made to the Sandisfield Arts Center – just as he, a passionate young artist, would have wished.
Editor's note: The Daniel Jacob Manacher fund has already gathered contributions enough that we look forward to being able to sponsor some kind of young artists show in future years, with details to be worked out with Daniel's family. Thank you to everyone for remembering Daniel, and thank you, Daniel, for this gift.
Daniel with his Camaro. Note the license plate!