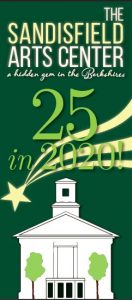 In 2020, we love our advertisers more than ever. These local businesses have supported the Sandisfield Arts Center through thick and – where we seem to be now – thin. They took ads in our beautiful 2020 program brochure – sadly now obsolete, but soon to be posted online (some of you will receive in a mailing so you can see what we planned and remember the businesses that made the brochure possible).
If you're not already patronizing them, please look at our Advertisers page. Many will have curbside pickup or delivery, or, like CW Nelson Landscaping or John Field Tree Services, come to your home with their services at a very healthy social distance. For their victory gardens, some of our Arts Center friends have had recent deliveries from Chuck Nelson of fabulous topsoil and site preparation by John Field. Some will be offering online services like BizTech Associates.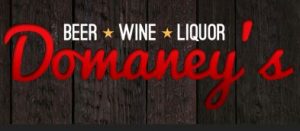 Over the years, Domaney's has been a great friend to the Arts Center, generously providing wine for some of our events. On my last run into Great Barrington for a grocery pickup from Guido's, I impulsively pulled up in front of Domaney's and called to see if I could get a few bottles of wine brought out to the car. No problem – and since they know more about wine than I do, I just asked for 3 nice reds under $15, gave my credit card information, and in about 5 minutes someone came out (they were masked, as was I), put the bag in the backseat, waved in a friendly manner, and my wine deficit was solved without having to enter any stores.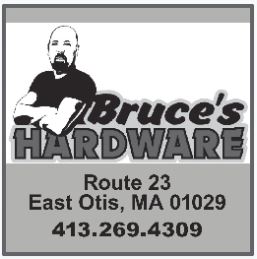 Exciting news for those of us whose water filter replacement cartridges are looking pretty bad, or whose wobbly dining room chair legs need a bit of wood glue – Bruce's Hardware has reopened in East Otis!
They have a great system where you set up an account over the phone, and then can order ahead for pickup or come in for hands-free paying (masks required – they're smart).
They were very patient with me this morning when I put in an order and called back 5 minutes later with a few items I'd forgotten. So possibly sometime this afternoon, the gunky water filter in the basement will be replaced by a brand new one.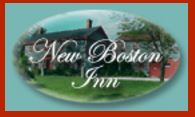 The venerable New Boston Inn has a rather tempting take-out menu available Fridays, Saturdays, Sundays (check their website for latest hours and the menu). The quesadillas are really good, dinners come with mashed potatoes and a side vegetable, and this is what I see under desserts:
Triple Choclate Cake Choclate Frosting
Lemon Cake Lemon frosting
Carrot Cake Cream Cheese Frosting