Today's Poets in Conversation with the Masters
September 28 @ 4:00 pm

-

6:00 pm

$5.00 – $10.00
"A large number of the poems I most admire and which seem to be most original are talking back to other poets of other ages."
—Richard Wilbur
Join us for this unique poetry program with poems of masters such as Frost, Auden, Wilbur, Plath, Owen, Boland, Kumin, Bynner, and Yeats performed by Ben Luxon and other Sandisfield Players, in dialog with poems they have inspired by award-winning poets Hilde Weisert, Rebecca Hart Olander, Jayne Benjulian, Irene Willis, and others. James Kraft, distinguished writer and general editor of the works of Witter Bynner and the biography Who Is Witter Bynner?, will read several  of the most enduring Bynner poems, including this one:
Defeat
On a train in Texas German prisoners eat
With white American soldiers, seat by seat,
While black American soldiers sit apart,
The white men eating meat, the black men heart.
Now, with that other war a century done,
Not the live North but the dead South has won,
Not yet a riven nation comes awake.
Whom are we fighting this time, for God's sake?
Mark well the token of the separate seat.
It is again ourselves whom we defeat.
Witter Bynner, 1881-1968
***
The postcard above is the Poet's Seat Tower in Greenfield, Massachusetts, which has this plaque commemorating Greenfield poet Frederick Goddard Tuckerman. Come on the 28th and you'll discover the connection between Tuckerman, Richard Wilbur, and others.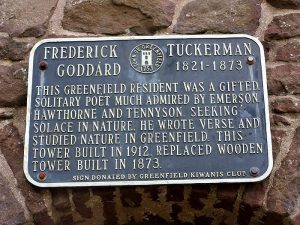 In his introduction to the Collected Poems of Tuckerman, poet Witter Bynner wrote:
"Though Robinson and Millay and Masefield have undoubtedly never read him, they would seem to have tapped his philosophy as well as his diction…He is as Chinese as he is American…He happened to belong to New England."