Today's Poets in Conversation with the Masters
September 28, 2019 @ 4:00 pm

-

6:00 pm

$5.00 – $10.00
"A large number of the poems I most admire and which seem to be most original are talking back to other poets of other ages."
—Richard Wilbur
Join us for this unique poetry program with poems of masters such as Frost, Auden, Wilbur, Plath, Owen, Boland, Kumin, Bynner, and Yeats performed by Ben Luxon and Sandisfield Players Mary Anne Grammer, Jean Atwater-Williams, Tina Sotis, Charles Fidlar, and Val Coleman, in dialog with poems they have inspired by award-winning poets Hilde Weisert, Rebecca Hart Olander, Jayne Benjulian, Irene Willis, and others.
James Kraft, distinguished writer and general editor of the works of Witter Bynner and the biography Who Is Witter Bynner?, will read several  of the most enduring Bynner poems, including this one:
Defeat
On a train in Texas German prisoners eat
With white American soldiers, seat by seat,
While black American soldiers sit apart,
The white men eating meat, the black men heart.
Now, with that other war a century done,
Not the live North but the dead South has won,
Not yet a riven nation comes awake.
Whom are we fighting this time, for God's sake?
Mark well the token of the separate seat.
It is again ourselves whom we defeat.
Witter Bynner, 1881-1968
Bynner, largely forgotten today, was widely published and well-known in the early and mid-20th century. He was a champion of the women's movement and racial equality and friend to Robert Frost, D.H. and Frieda Lawrence, Edna St. Vincent Millay, and Khalil Gibran. His translations brought Chinese poetry to an American audience, and his version of The Way of Life, according to Lao-Tzu is still considered definitive.
The program will be followed by a wine and cheese reception.
Tickets are $10 for adults and $5 for students.
About the poets:
Jayne Benjulian is author of the critically-praised Five Sextillion Atoms. Jayne will teach a new workshop Writing and the Art of Revising at the Foundry in West Stockbridge Friday mornings nine to noon from October 18 – November 22. Information here.
Rebecca Hart Olander's  debut full-length collection, Uncertain Acrobats, is forthcoming from CavanKerry Press in 2021. Rebecca teaches writing at Westfield State University and is editor/director of Perugia Press.
Hilde Weisert lives part-time in Sandisfield and is author of The Scheme of Things. Poems to be on the program include "The Pity of It," winner of the 2016 Tiferet Poetry Prize, and the Calyx Lois Cranston Award, "Finding Wilfred Owen Again."
Irene Willis is the author of five collections of poetry, has won numerous awards, is poetry editor of the online International Psychoanalysis, and is at work on an anthology on immigration.
***
The postcard above is the Poet's Seat Tower in Greenfield, Massachusetts, which has this plaque commemorating Greenfield poet Frederick Goddard Tuckerman. Come on the 28th and you'll discover the connection between Tuckerman, Richard Wilbur, and others.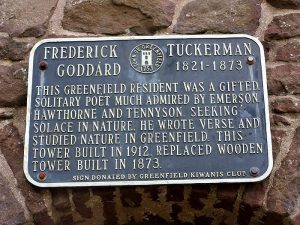 In his introduction to the Collected Poems of Tuckerman, poet Witter Bynner wrote:
"Though Robinson and Millay and Masefield have undoubtedly never read him, they would seem to have tapped his philosophy as well as his diction…He is as Chinese as he is American…He happened to belong to New England."