Extended! Applications Open for Daniel Manacher Prize for Young Artists
May 7, 2022

-

June 22, 2022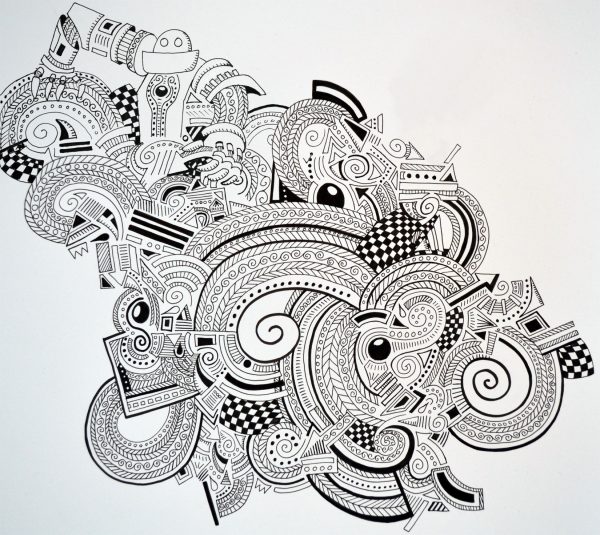 The Sandisfield Arts Center is pleased to announce the Daniel Manacher Prize for Young Artists, submission deadline June 15, 2022.
Now extended to June 22!
Three artists will be selected as finalists and each will receive $350 in support of their art practice, as well as a group show of their work at the Sandisfield Arts Center in August, 2022. The prize was generously created by Adam Manacher and Carol Birnbaum, the parents of Daniel Manacher in memory of their son and his passion for art. You can read about Daniel here.
The image above is Shwoopy Loops, 2013 by Daniel Manacher.
Please read the eligibility and application requirements carefully before submitting for the prize. Direct any questions to [email protected] 
Eligibility and Application Requirements
Entry Deadline: June 22, 2022 at midnight
Applicants will be notified no later than July 15, 2022 via email
Exhibition dates: August 13-Sept 7, 2022 with an opening reception on August 13 2-4 pm that will include refreshments.
Work must be dropped off at the Sandisfield Arts Center for installation on August 10th or 11th.
Work must be picked up Sept 7, 2022.
Entry Requirements: Eligible artists are those 17-26 yrs of age living or attending school in Berkshire County. There is no fee associated with the application and all entrants will be judged based solely on the merit of the work presented.  We are asking that you provide us with the contact information for one reference. This should be a person who is familiar with your art practice.
Accepted Media: We are currently accepting applications from those working in painting, drawing, mixed media, sculpture, digital paintings, and digital drawings. We are unable to accept video, photography, or sound art at this time. Digital work must be able to be printed for display on a wall to be considered.
Work Size: No piece can exceed 60 inches in any direction, and sculptures must be under 60 lbs. Artists are responsible for all transportation of the work. All artwork must have been created in the past 3 years. Work needs to arrive at the gallery ready to hang. 
If any technical assistance due to lack of access to a computer, camera, or internet at home is needed to complete your application, please contact [email protected].
APPLICATION REQUIREMENTS – PLEASE READ CAREFULLY
Please use this Google Form link to submit your application.
There is an option to upload your images on the Google form. We can also accept images via Dropbox or WeTransfer. There is a space in the application to note if you plan to submit your work via a Dropbox link or WeTransfer. Please use the email [email protected] for either of these submission options. 
IMAGE SPECIFICATIONS
You may submit up to 5 examples of your recent work with up to 5 supporting images showing details (if relevant) or various perspectives for 3D art.  No more than 10 images total. Please make sure these images are of high quality.  Images should be in JPEG format with 300dpi and the longest side no more than 1500 pixels.
Name each image file in the form FullName_number.jpg (ex: JessSmith_01.jpg)
Create a document file (either .docx or .pdf) with a corresponding image list. Label each image in the following format: 01: Title, Year completed. Media, Size in inches(HxW or HxWxD for 3D work);

Ex: 01: Self Portrait, 2021. Acrylic paint on canvas, 15×11 inches
Name the document in the form FullName_Image List (ex: JessSmith_Image List.docx)
Selection Process: The applications will be reviewed by a selection committee comprising current Sandisfield Arts Center Gallery chair and local artist Jess Cofrin, local artist and SArC board member Susie Crofut, and Boston area artist and educator Jessie Young.
Publicity: All finalists will be promoted in local press publications and Sandisfield Arts Center communications.
Contact: Please reach out to Jess Cofrin at [email protected] with any questions regarding the application.