The Sandisfield Arts Center Board of Directors thanks you for your support and your participation in 2021 and wishes you a wonderful holiday and a healthy and happy new year!
As the year ends, we'd like to share two videos, below, to brighten your winter days. These videos were labors of love presented in the first, online part of our 2021 season as "YouTube Premieres" (where we could all watch and chat at the same time).
With appreciation,
The Sandisfield Arts Center Board of Directors
Hilde Weisert, President
Sheila Liberman and Barbara Penn, Vice-presidents
Jean Atwater-Williams, Treasurer
Tom Christopher, Secretary
Peter Baiamonte
Jess Cofrin
Susie Crofut
Adam Manacher
Linda Mironti
Bogart Muller
Suzanne OConnell
John Skrip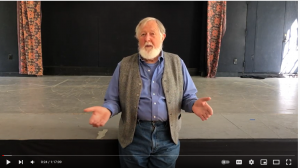 From May 22: Ben Luxon's Irresistible Excerpts from (Some of) the Sandisfield Players Favorite Shows (1 hr 17 min). It includes highlights from Jack and the Giant Bean Stalk, Under Milk Wood, and Charlie and the Chocolate Factory, introduced by Sandisfield Players producer and director Ben Luxon.Ben also provides a brief history of how the Players got started and the Arts Center was transformed into a true performance space. Anni Crofut and Linda Mironti provided technical assistance for the video.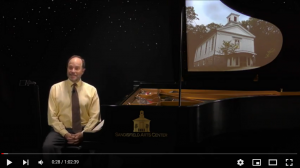 From June 12: The Sandisfield Arts Center Presents "Moonlight Sonata" with Fred Moyer, Pianist (1 hr 3 min). In addition to Beethoven's Moonlight Sonata, you'll hear Debussy's Clair de Lune and the  Allegro scherzando from Rachmaninoff's Second Concerto, as well as Fred's inimitable jazz transcriptions. And good news! Thanks in part to funding from the Sandisfield Cultural Council and the Massachusetts Cultural Council, we're pleased to announce that Fred will be performing in person next season.
Some of the people who helped make this season extraordinary
Lynn and Steve Rubinstein, for making the Blackstone Valley String Quartet recital possible; Peter Baiamonte, for providing the beautiful field for the outdoor Roger Street Friedman concert (at left); Liana Toscanini, for the amazing outdoor Sculpture Show; Karen Allen, for once again donating her time for a showing and conversation, this time about "Colewell"; Michelle Arnot, for another crossword-puzzle insider workshop; Thad Kubis, for another great photography workshop; Suzanne OConnell, for her fascinating and concerning insights on scientific ocean drilling; Jerry Herman, for his "'Our Town' at the Minack" film that kicked off our indoor season; Bonney Hartley, Tribal Historic Preservation Manager for the Stockbridge-Munsee Community, for sharing the ongoing efforts to protect Mohican and Munsee (Lenape) cultural sites and to repatriate cultural items; Ben Luxon, who did almost everything — read "poetry I've lived with and loved" aloud, put together the Players highlights, weeded the garden, produced the absolutely right Val Coleman memorial, and more; KwikPrint, for always going above and beyond; the Sandisfield Cultural Council for its support through pandemic reschedulings; Preservation Massachusetts with the 1772 Foundation for their matching grant for our repairs to our foundation; and all the performers, artists, voliunteers, donors, and audience members who with good cheer donned masks, showed vaccination cards, and helped us be entertained, inspired, and safe.
We're excited about planning another lively season of performances, films, talks, and workshops as well as Gallery shows. Schedule to be announced in early Spring.
As for our mission, "To preserve our historic building and provide cultural and educational programs for our community", the first part is very much on our minds. For the preservation and capacity of the building and its healthy environment, needs include:
A repair to the water damage in the rear of the building, hopefully as the first part of the building addition we began fundraising for in 2019.
Investing in an air handler for the frequent air exchanges key to stopping virus transmission. We're researching grant funding to help with this approximately $18K investment.
If you haven't donated in 2021, and can, this is a time it can really make a difference!