Outdoor Sculpture Show – Closing Saturday July 31
July 4, 2021 @ 4:00 pm

-

July 31, 2021 @ 6:00 pm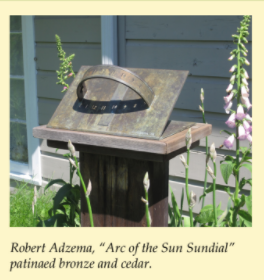 Update: Last day to see the show, Saturday July 31!
Opening was Sunday JULY 4, 4 to 6 pm, on account of rain and chilliness.
On July 4, how would you like to–
Gather safely with friends including many you have not seen since early 2020?
View wonderful sculptures in a beautiful Sandisfield field?
Support the Arts Center while having fun?
The beautiful field belongs to Liana Toscanini, former Arts Center president, longtime Sandisfield resident, and current Executive Director of the Nonprofit Center of the Berkshires. Toscanini suggested the exhibit as a safe way to fundraise for the Arts Center this summer.
Come to 186 Sandisfield Road (Route 57), see the map below.
The sculpture show will be open on weekends during the month of July.  A COVID-safe opening reception will be held on Sunday July 4 from 4pm-6pm.  Families welcome! $20 suggested donation for adults. The Arts Center is the recipient of all proceeds from the show.
A wide walking trail around the perimeter of the field contains semi-circular cut-outs for the sculptures. A golf cart is available for those unable to navigate walking.
Sandisfield is home to several sculpture artists, many of whom will be featured in the exhibit.
The Sandisfield Arts Center is the recipient of all proceeds from an outdoor sculpture exhibit taking place in July in a 5-acre field on Route 57 in Sandisfield. "Field Day" artists hail from Massachusetts and Connecticut, with many from Sandisfield and neighboring towns. The opening reception is now July 4th from 4 p.m. to 6 p.m. "Field Day" will remain open on weekends throughout the month of July. Admission is "pay what you can" with a suggested donation of $20 per person for adults.
"This is a safe, outdoor event that uses the arts to bring people together again, after 15 months of pandemic-related hibernation," said Toscanini. The Sandisfield Arts Center has suffered major event-related revenue loss, like many arts organizations across Berkshire County. "It's a nice, mission-centric way to help," said Toscanini.
Exhibiting artists include Robert Adzema, Nick Crofut-Brittingham, Bill Cummings, Erika Crofut, Susan Crofut, Sophie Eisner, Jamie Goldenberg, Nancy Johnson, Jaye Moscariello, Robert G. Osborne, Bevan Ramsey, Jon Riedeman, Richard Rook, Karl Saliter, Robin Tost, Natalie Tyler, Peter Vacchina, Gar Waterman, Robert Wilk.