Gallery Show: Winners of the Daniel Manacher Young Artists Prize
August 14, 2022

-

September 7, 2022
Show runs through September 7th.  Gallery is open during regularly scheduled events or by appointment. To arrange an appointment please contact Adam Manacher @ 617-645-6525.
Winners:
Julia Rose Miner: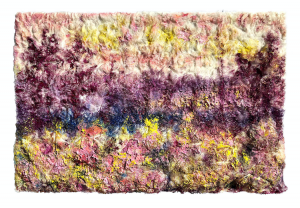 Formed A New
2020
Acrylic Paint, Faux Fur, and Joint Compound on Board
36"x24"
Statement:
Hi, my name is Julia Rose Miner. I am a painter who lives and works in the small, artistic town of Stockbridge, MA. In my most recent collection, my textural paintings of abstracted landscapes explore the ideas of innocence and decay. I use a pallet that consists of candy, stuffed animal materials, and vibrant pastel colors. These works play with the corrosion of nostalgia while holding onto a childlike optimism. At the age of seven I was diagnosed with a visual impairment, called Stargardt Disease, leaving my world altered with a constant vibrating visual texture. I use the sense of touch as a source of sight to navigate through life and art. This is  how I experience the world and I feel compelled to use these tools when making my work. In my practice I translate bits and pieces of visual information to fabricate a new reality that lies in the comfort of unease. I welcome and encourage both delight and putrefaction to coexist. Building layers I construct and paint distorted and discolored imagery inspired by my everyday surroundings. My work embraces the ideas of joy and deterioration while abstracting the world.
Natasha Wein: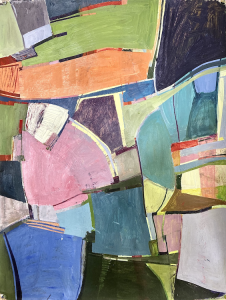 Spaces: Suburbs
 2022
Acrylic paint, gouache, and water-soluble ink pencils on paper
24×18 inches
Statement:
"Spaces" explores the interface between external and internal experience, specifically how we hold the spaces and relationships we inhabit in our minds as memory. The mental landscapes we foster and the narratives we tell ourselves about those landscapes inform our sense of belonging and resilience. In this series, I used my longing for contentment amidst a particularly distressing and uprooted period in my life to influence my use of color and shape; by painting with intention, I created an external space with movement and possibility from where I could work with my internal distress and, in turn, repaint my psychic wallpaper. When we strip back the cognitive clutter, a more honest rendering of our experiences and desires can be exposed, and one that is often more sincere and playful. This way of working can decongest complicated and backlogged feelings so they can be integrated into our present experience. I used tape as a tool to create territories of paint and water-soluble ink pencils to make lines connecting territories of color. We often think of boundaries as points of separation, but they are more meeting points that allow for a relationship to occur. This was a process of experiential learning through process—a practice in clearing spaces and rendering passages to navigate memories, circumstance, and dreams.
Alorah Welti: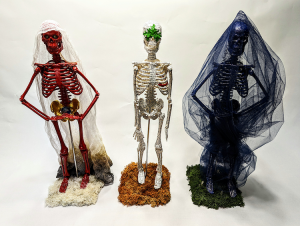 Eve Adam Lilith (Red White Blue) 
2022
Paint and decoupage on plastic skeletons
approximately 20×20 inches
Statement:
My work, primarily in mixed media, paper, and fiber, asks and seeks to answer the question of what is sacred. As someone with synesthesia, a sensory neurodivergence that connects senses like sound and color, I am eternally searching for the visceral and dreamlike. Texture, saturation, and reclamation are fundamental to my practice, as are myth and feminist spirituality. I am endlessly inspired by fertility, ancestry, and the constant presence of history in all things.