Gallery Show: Light Tells the Story – Free
July 24, 2021 @ 4:00 pm

-

August 22, 2021 @ 6:00 pm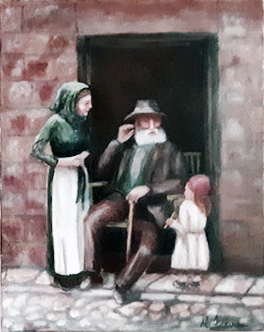 Saturday July 31 the artist will be at the Gallery from 2 to 4 PM.
Paintings by Mel Feldman
Mel Feldman began painting with watercolors and then took up acrylics, as he found acrylics are more forgiving, and it is easier to correct the work. He prefers to paint people and uses vintage photographs for inspiration, as these often tell a story. Most important to Mel is the light and the interplay with the placement of the figures. He is also inspired by Vermeer and his use of light. The impressionists — Monet, Renoir, Corot, and Pissarro — have contributed to his vision and the paintings he creates. He lives in Otis.
The opening reception will be outdoors and the Gallery show will be open to small groups for safe social distancing.
The exhibit will be on view weekends or by request through August 22.