Gallery of Artists Carol Kiendl
July 9, 2016 @ 4:00 am

-

1:00 pm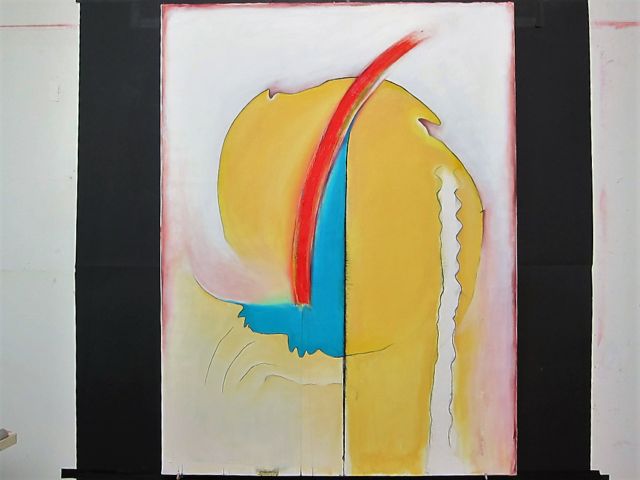 In the Gallery: Carol Kiendl–Line, Shape, Color
Opening Reception : 9th Jul 2016 02:00 PM
Date of Show : 9th Jul 2016 – 31st Jul 2016
The opening reception is July 9 from 2-4.
Artist Statement
A number of years ago I became tired of deciding "what am I going to paint today?" I decided the most engaging part of making art is the tactile experience of using art materials to create work that meets the formal considerations of painting such as line, shape, composition, color usage, depth of field and eye movement.  I also decided to explore one element of painting – the brush stroke, to see how much could I get one brush stroke to say.
I have now moved on to the drawn line as a beginning point.  Lines that are drawn with a black pastel pencil whose inherent properties allows for greater variation.  These lines are doodles that come from precocious thoughts.  I keep listening to them and following where they lead me.  I work to not let conscious idealization enter, while keeping all my formal knowledge of art-making prominent.  This mimics an established art therapy approach call "Scribble Technique" where clients close their eyes and just draw on a piece of paper.  Then you have them see imagery in the scribble they produce.  This taps into precociousness, as do my beginning drawn lines. When my paintings are complete the viewer projects their own precociousness onto the painting, allowing for many interpretations.
I use many different materials that are all water soluble and just make them work together.  I work on paper made by Arch that is designed for use with oil paints, that has been adhered to a stretched canvas.  I work in a tight series that are all 3 feet by 4 feet and have a vertical orientation.  This keeps my focus on what the materials are telling me.  I hope you enjoy the experience 
of
 looking at my work.