From Madness to Music: Documentary and Discussion
August 13, 2016 @ 4:00 am

-

1:00 pm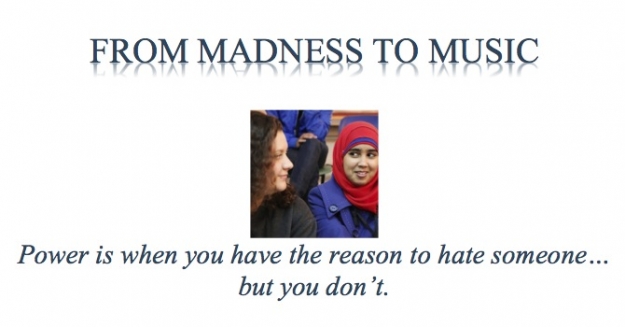 From Madness To Music is a documentary short produced by Music in Common (MiC) and Beansprout Productions in association with the Pumpkin Foundation. The film follows the progression of Music in Common's roots as a backyard music jam honoring the life of slain journalist Daniel Pearl to its current work as a non-profit organization engaging youth of different faiths and cultures in music and multimedia collaborations around the world.
The film illustrates the power of music to bring people, in particular young people and those living in conflict regions, together on common ground, where dialogue and deeper understanding can lead to a change in attitudes and expectations. Through the voices and experiences of participants, the film explores the perceptions and challenges facing youth in conflicted communities in the U.S., Israel, and Palestine.
The 23-minute screening will be followed by a discussion and Q&A with filmmaker Lynnette Najimy and a reception.
The social and geographic landscapes change dramatically from Massachusetts to Israel, but the power of collaboration through music cannot hide from the lens. Interviews with participants and with program leaders as well as a soundtrack of moving student-produced songs lead the film to its affirmation that music provides a strong foundation to build connections that can lead to positive change.
The film's release is a poignant and timely response to the world's imminent need for change and healing during heightened tensions between faiths and cultures. It is the organization's goal to raise awareness of the powerful efforts being made to foster peace between the people of the world.
We invite the audience to join Lynnette for a reception with refreshments after the screening and discussion.